ABOUT ME - Dennis J. Aitken
My name is Dennis J. Aitken. As of 12/04/2013, I was 60 years young and still havenít grown up according to the people who know me best. I was born and raised in Chicago. I was in EMS system for many years and am the former owner of 4 businesses: Electronic Intruder Detector Systems, The Mailbox, Continental Electrical Services, and The Kiln Doctor but lost them and my life savings due to illness and then moved up to Wisconsin to start my new life in the early 1990's. I don't look back and say, "Woe is me! Boo hoo! I lost everything!" I just look forward to what the next day brings me and thank God every day that I wake up to a new day.
I have two fantastic children, Jennifer (30) & Joe (25), who have come very far in creating great futures and lives for themselves and I am very proud of them. I also have 6 grandchildren that I love very much.
I am currently living with my significant other, Terri, in a house we got that was foreclosed on and had been vandalized. We have enjoyed doing the repairs together along with small changes to the appearance of the landscaping. "A little bit each day because we have the rest of our lives." she keeps telling me.
I have been an avid motorcyclist since I was 16 years old. I have owned such motorcycles as Ducati, several Hondas, Kawasaki, Suzuki, Triumph and Yamaha. A lot of credit goes to a good friend of mine named Ed Novak who has since passed away. It was Ed who started me out on my first motorcycle. I have ridden both on & off road, including cliff climbing, and even chanced my luck (and life) on dirt bike racing at the Lake Geneva Raceways and with ice racing on the Fox River & Lake.
Below is my Yamaha 175cc racer at about 17 years old at our cliff climbing location.
(Gotta love that hair and bad-ass look!)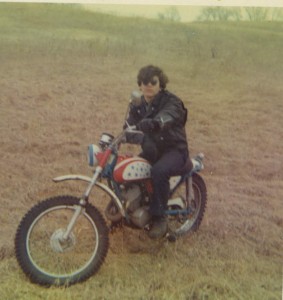 One of the most memorable times in my life was
taking my new 1972 CL 350 Honda across the United States for three months back in the 1970's
keeping all that chrome shining every night.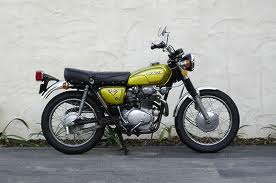 I now ride a 1500 Honda Goldwing Wineberry color and I am loving every minute of it.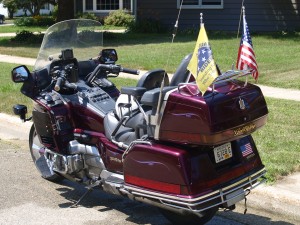 I got divorced in 2009 and I met my wonderful friend, Terri, soon after moving to Janesville in 2011. I started attending Blackhawk Technical College (BTC) in Janesville, WI in 2011. I love it and Terri had been an integral part of my college life as a fellow student helping me learn how to study and take tests all over again. The last time I had gone to college was in 1995 at Gateway Technical College in Elkhorn, WI where I took an AutoCAD engineering class. At BTC I was a member of the Outdoor Club, The Student Network of Activities and Programming (SNAP), and the Flyer|OnLine as a writer and photographer, Association of Information Technology Professionals (AITP) and I had been a senator for clubs who represents themselves at the Student Government Association (SGA) meetings. My first semester I took business management and received a 4.0 but I canít fool myself; Iím not a suit-and-tie kind of guy after being a contractor for over 17 years. The second semester I started the IT (Information Technology).
I already loved showing my artistic and creative talents by creating a number of websites. I even created the website for the Walworth County Civil Air Patrol which received accolades from Washington DC and the Air Force in 2004. Unfortunately the could not afford to keep the hosting charges up and the site was taken down. I created the website for the Lake Geneva Fire Department back in 2010 and I will probably rebuild it sometime this year. I was a member of the Goldwing Road Riders Association back in 2010 and created an extensive website which took several months to develop but they too didn't keep their hosting fees paid and lost their site. I have enjoyed developing websites for the business community also since 1995. Unfortunately, especially with the economy problems of today, businesses come and go as do the websites. One good example is Mandino's Chicago Hotdog located in Twin Lakes, WI. They are still in business but can not afford the hosting fees any longer @ $100.00/year because things are so tight with his business.
Terri started the business College Creations and I do the designing for her.
Basically this is where I am today.
I love photography and creating websites and
eager to see what is next on the horizon for the next stage of my life.
If at anytime you are looking to have a website created Ė the right way Ė please contact me.
I will work with you to create the perfect website tailored just for you!